Radio Innovation Roundtable Reveals How Funders Partner With Public Music Stations to Rally Communities
May 23 2014
"Funders should know — there are moments when you make the right investment that really powers growth," NPR Music Director and Executive Producer Anya Grundmann told a room packed with philanthropists and public radio station managers for the Media Impact Funders (MIF) Radio Innovation Funder Roundtable.
The day's talks suggested that noncommercial music radio looks to be at such a tipping point, with vibrant experimentation happening across the field. MIF organized this May 14 gathering in conjunction with WXPN's 2014 NON-COMMvention, which brings station heads, musicians and fans of public radio music stations together to share strategies and catch live performances. The majority of the stations in attendance play contemporary music in the "Adult Album Alternative" (AAA) format, including rock, folk, country, blues, and world music.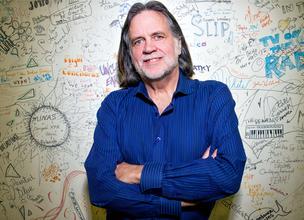 WXPN General Manager Roger LeMay joined Media Impact Funders Executive Director Vince Stehle in welcoming Roundtable attendees, offering a capsule history of the rise of AAA stations, and noting the signature role that they play in connecting community members with public media, local performers, cultural organizations, and one another.
The session offered a chance for funders passionate about how music can knit cities together to connect directly with those reinventing the field, including David Haas of the Wyncote Foundation, Gary Steuer of the Bonfils-Stanton Foundation, and philanthropist-musician Peter Buffett of the NoVo Foundation.
"Every funder should be funding what you all do," observed Joe Pyle of the Scattergood Foundation, because AAA listeners are primed to also participate in social good campaigns. Scattergood supports WXPN's "Music Heals" initiative, which brings live music to the bedsides of more than 60,000 patients at hospitals across the region to help them cope with physical and emotional pain.
Powerful Station Collaborations
Buffett, who has been integrally involved in the founding and evolution of RadioMilwaukee (WYMS), explained how his performance background helped him to understand that creative growth takes time. He described himself as a patient investor in the station.
WYMS Executive Director Mary Louise Mussoline described a range of inventive ways the station builds connections with Milwaukee listeners. Programs now regularly weave in song-length local news stories as a way to underscore the relationship between civic and cultural life. WYMS airs five high-quality PSAs per week, featuring well-produced stories about the work of local nonprofits that have ties to the music scene. Plus, the station's new centrally located building — made possible by a 2.5 million dollar capital campaign — now allows for more face-to-face engagement via live performances and storytelling.
Abby Goldstein of Pittsburgh's WYEP described how her station had effectively joined forces with local NPR news station, WESA-FM. By sharing backend resources, staff and space, the two stations have cut costs and found new points of overlap. WYEP offers a variety of community programs with music at the core, including a Rock Radio Camp for aspiring young DJs, and the Reimagine Media project, which trains teens to record and promote their work, and to recruit other teen musicians.
Steuer also spoke about creative strategies for bridging news and arts coverage in the Denver area. The Bonfils-Stanton Foundation gave Colorado Public Radio (CPR) a three-year grant to establish a new multimedia arts bureau. Not only are reporters producing content for both the state network's alt music and NPR stations, but the process of creating the digital arts bureau triggered a larger redesign of the entire CPR web site, said Doug Clifton, CPR's Vice President of Music. The goal, Steuer explained, is for the site to become a "digital commons" that involves not just listeners, but other members of the community who might not be tuned in on air. He pointed to just one interesting collaboration — the Radio Dances project — to show how the new bureau could serve as a locus for local artists and arts groups.
Local Hubs, National Circuits
The afternoon's closing sessions examined how national networks are surfacing and showcasing local innovation at music stations, and building new platforms for music discovery.
With commercial radio becoming ever-increasingly consolidated, and album sales on the wane due to digital downloads, local performances are now a central source of income for musicians. Craig Finn, the lead singer of The Hold Steady stopped by on the way to his NON-COMMvention performance to speak to the importance of public radio in the national music ecosystem. "When we tour, the local NonComm stations create a community of people who love music," he said.
Stations are increasingly capturing and sharing visually arresting videos of such performances. The Public Media Company (formerly Public Radio Capital) has built a new platform called The Music X Project to feature such productions and help listeners discover emerging bands. This new CPB-funded service, announced at the NON-COMMvention, will launch in late 2014 with a new name, and content from five founding stations: WXPN, KCRW in Los Angeles, KTBG in Kansas City, KUTX in Austin, and WFUV in New York City.
Erik Langner of the Public Media Company and the heads of several of the stations spoke about the promise of local-to-national collaboration. The music videos will be one strand in Public Media Company's larger project currently called Channel X, an online marketplace for public media video content. The Wyncote and MacArthur foundations are supporting this service, along with Kansas City-based KCPT, which has committed to using it to add new verve to their broadcast lineup.
Grundmann talked about myriad NPR Music projects, and the importance of trial-and-error in developing new avenues for listeners to discover diverse formats. "You have to be willing to pivot," she said, "to embrace what works and move on. She highlighted one new series — Heavy Rotation, a monthly sampler of songs that "public radio can't stop playing."
Sue Schardt, the Executive Director of AIR — a national network of 1000 audio and multimedia producers — offered lessons from the Localore project, a national public media transformation initiative that I've also been working on for the past three years. With funding from CPB, Wyncote, MacArthur and the NEA, AIR sent 12 independent producers into 10 public radio and TV stations to invent new forms of storytelling that combine broadcast, digital and face-to-face engagement. Schardt presented key takeaways from a recent report that she and I co-authored — What's Outside? Public Media 2014 — and honed in on the Localore production at KUT, the Austin Music Map.
KUT recently created a new music-focused station, KUTX. Localore producer Delaney Hall spearheaded the launch of KUTX's MapJam, a daylong music festival now in its second year, which showcases hidden musical spaces and invites attendees across the city to help document performances via social media. KUTX GM Stewart Vanderwilt reflected that while working to develop the immersive Austin Music Map site was a challenge, it gave the staff chops to more quickly develop a new interactive storytelling project: On My Block. Inclusive projects such as these help stations move beyond serving existing listeners, said Schardt, and fulfill the larger public media mission of serving all of America.
John Barth, Managing Director of PRX, spoke about the transformation of his organization, which offers an online marketplace for audio producers to share content with stations and listeners. More than 20,000 pieces have been licensed to stations through their system, he said, and PRX has also successfully developed a series of public radio apps. Now, they are rethinking their strategy to be more "talent-focused," he said, while reorienting to serve listeners. On the one hand, they are making big content plays, partnering with national organizations like the Center for Investigative Reporting to launch co-branded productions such as Reveal. On the other hand, they're working to support emerging audio talent from the ground up through a new podcast network, Radiotopia. PRX is also exploring ways to build scalable promotion tools and business models for stations, Barth said.
Closing Thoughts
Tom Thomas and Terry Clifford of the Station Resource Group wrapped up with a synthesis of the Radio Roundtable. "Programming causes audiences," Thomas said, and the day's discussion reflects the potential of the AAA format to cultivate new public radio listeners that reflect the nation's shifting demographics.
He noted that while the earlier business decisions to segment news and music formats into separate streams had helped to strengthen recruitment of station members, it also divorced the "head and heart" of public radio. The bridging projects discussed over the course of the day represent healthy reconnection efforts, allowing stations to better serve the "whole listener."